It can be a challenging task that demands careful preparation and execution to move a complete office. Moving furniture, equipment, and papers can be a daunting task, whether you're moving to a new location or enlarging your current workspace. It is crucial to engage the assistance of professional office movers in Alexandria to ensure a seamless and trouble-free workplace transfer. These experts offer a variety of services to streamline the process and have experience managing commercial relocations.
The Importance of Professional Office Movers
Office relocations involve complex logistics and call for specialized knowledge to ensure a smooth transition. Professional office movers are aware of the particular difficulties that come with moving a company and are equipped with the knowledge and expertise to deal with them. You may minimize downtime, lower the possibility of harm to your priceless assets, and concentrate on your main business operations by working with skilled office movers. You may move your workplace with ease thanks to the efficiency, professionalism, and accuracy these professionals bring to the table.
Finding Reliable Office Movers in Alexandria
Finding a respectable and trustworthy service provider is essential while looking for office movers in Alexandria. Ask for referrals from other business owners or coworkers who have recently moved offices as a starting point. Additionally, check online to find reputable moving firms with stellar client testimonials. A trustworthy office mover should have a proven track record of successful office relocations and have the ability to manage the unique needs of your company.
Services Offered by Expert Office Movers
Expert office movers offer a comprehensive range of services designed to cater to the unique needs of businesses. These services include:
Office Relocation Planning and Coordination
A thorough plan can be created for your workplace move by experienced professional office movers. They will collaborate closely with you to understand your needs, create a schedule, and organize every aspect of the moving process.
Packing and Unpacking Services
Your workplace belongings are packed and unpacked by office movers, who make sure they are well-protected and arranged throughout the relocation. To protect your equipment and files, they employ premium packing supplies and methods.
Furniture Disassembly and Assembly
Office movers have the tools and expertise to disassemble and reassemble furniture to simplify the transfer. To save you time and effort, they carefully disassemble larger objects and reinstall them at the new place.
IT Equipment Relocation
It's common for expensive and sensitive IT equipment to be moved during office transfers. Computers, servers, and other technology infrastructure may be safely transported by professional office movers thanks to their specific knowledge and tools.
Secure Storage Solutions
Businesses occasionally might need temporary storage options while moving offices. In order to keep your possessions safe until they are ready to be relocated to the new place, office movers can offer secure storage facilities.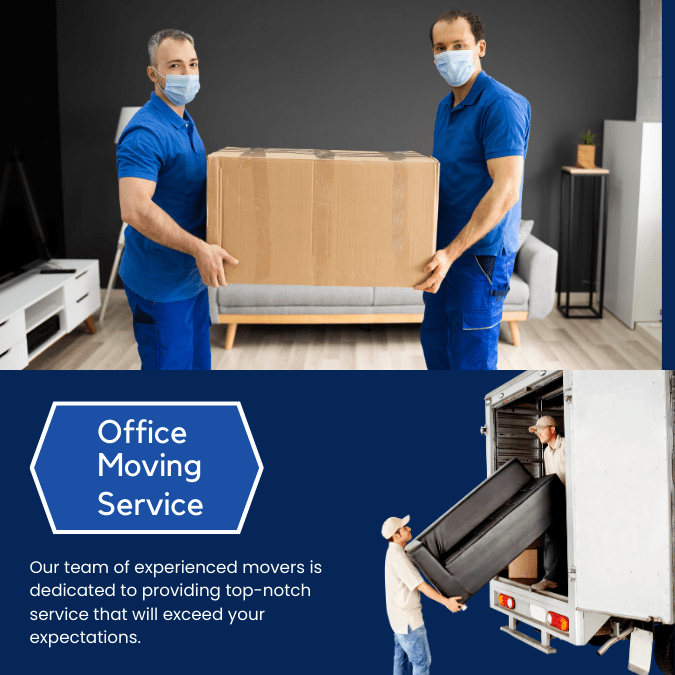 Benefits of Hiring Expert Office Movers
Hiring expert office movers offers numerous benefits for businesses of all sizes. Some of the key advantages include:
Minimizing Downtime and Disruptions
Office relocation specialists are aware of how crucial it is to reduce downtime. They work rapidly to provide a smooth transition, enabling you to immediately return to your regular business operations.
Ensuring the Safety of Office Equipment
You may feel secure knowing that your office equipment is handled with care when you hire professional office movers. They employ appropriate packing methods and tools to minimize damage during the transport.
Efficient Space Utilization
Office movers can help you make the most of your new office's design and use of space. They work with you to decide how to arrange the furniture, equipment, and workstations in the most effective way possible, ensuring a practical and effective workspace.
Expertise and Experience
Professional office movers are highly skilled at managing office moves. They are skilled at handling the difficulties that arise during the relocation, guaranteeing a seamless procedure from beginning to end.
Customized Solutions
Expert office movers know how important it is to customize their services to fulfill particular needs because every office move is different. They offer specialized solutions that fit your company's requirements and tastes.
Steps to Ensure a Smooth Office Move
To ensure a successful office move, it is essential to follow a systematic approach. Here are the key steps involved:
Pre-Move Preparation
To begin, make an inventory of all the goods that need to be transported. Make a thorough checklist and remove any unnecessary goods to make room for the move.
Communication and Coordination
While the procedure is going on, keep the lines of communication open with your office movers. To ensure a smooth transition, include crucial information such as floor plans and access credentials.
Efficient Packing and Labeling
To protect the security of your office supplies, proper packing is essential. To safeguard fragile things, use strong boxes, bubble wrap, and packaging supplies. To make unpacking and organizing simpler, carefully label each box.
Proper Handling of Fragile Items
Mark boxes containing fragile objects clearly and let the office movers know what's inside. This will enable them to move delicate goods with greater care.
Timely Transportation and Delivery
To arrange for the delivery and transfer of your items, work with the office movers. Make sure the new office is ready to accept the furniture and equipment on the scheduled day.
Post-Move Evaluation and Support
Once the relocation is complete, inspect the new workplace to make sure everything is in working order. If a problem arises, speak with the office movers right away to resolve it.
Choosing the Right Office Movers in Alexandria
Selecting the right office movers is crucial for a successful office move. Consider the following factors when making your decision:
Research and Reviews
To determine the reputation and dependability of possible office movers, do extensive research and read client testimonials. In order to verify that prior clients were satisfied with the services rendered, look for testimonials and comment.
Licensing and Insurance
Make sure the office movers you select are authorized and covered by insurance. This guarantees that they comply with all legal standards and gives you additional security in case anything unexpected happens while you're moving.
Experience and Expertise
Think about the office movers' experience and skill. Seek out businesses with a track record of successfully managing workplace moves. A seasoned mover will be equipped with the knowledge and abilities needed to tackle any difficulties that may emerge throughout the relocation.
Customized Solutions
Every workplace move is different, therefore it's crucial to pick office movers who can offer solutions that are specifically catered to your requirements. Ensure that the moving company can meet your preferences and expectations by discussing your needs with them.
Transparent Pricing
Obtain detailed quotes from different office movers and compare their pricing structures. Ensure that there are no hidden costs or additional fees that may arise later. Transparent pricing allows you to budget effectively for your office move.
Hiring skilled office movers in Alexandria is crucial for a seamless and effective transition when moving a workplace. These experts bring important knowledge, extensive experience, and specialized solutions to make sure your workplace move is effective and trouble-free. Office movers take care of every part of the move, from rigorous planning and coordination to managing furniture, equipment, and IT relocation, leaving you to concentrate on your main business operations. You may have a smooth workplace move that reduces downtime and assures the safety of your priceless assets by following the instructions provided in this article and choosing the appropriate office movers.