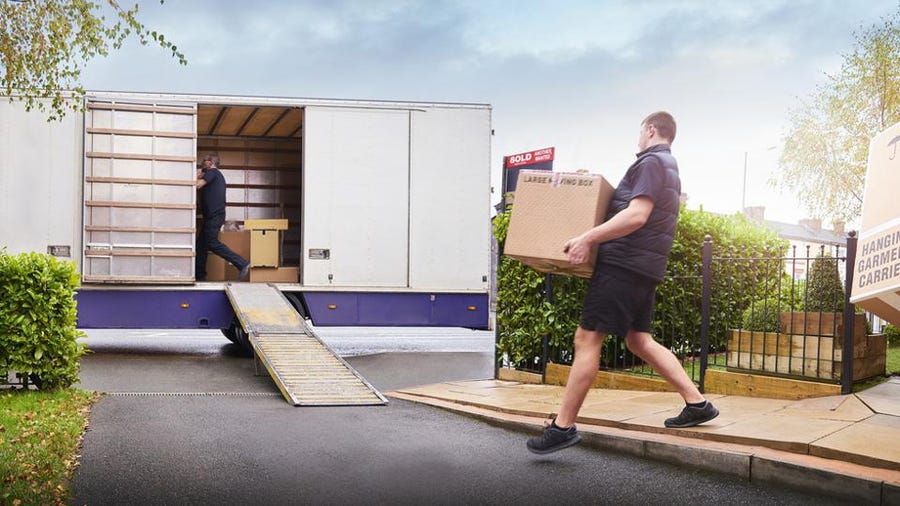 Are you planning to move to Virginia? Moving can be an overwhelming, stressful process – from packing your stuff, to ensuring all of your belongings arrive at their destination safely. The good news is that choosing a local mover doesn't have to add extra stress to the already long list of moving tasks.
Choosing an experienced and reliable local mover will go a long way towards creating an easier, smoother experience for you and your family when deciding where to move in Virginia. In this post, we'll review how to choose a reputable and experienced local mover in Virginia so that you don't needlessly worry about the safety of precious items along the way!
How to Choose a Local Moving Company in Virginia?
1. Ask for referrals
It is important to ask close friends and family members who have experience with local movers in Virginia. You can also read online reviews and testimonials for moving companies in Virginia.
2. Check the company's credentials
Ensure the local moving company you choose is well-established, licensed, and insured. Verify the business license number on their website or call your state's attorney general office to confirm that they are in compliance with all applicable laws.
3. Get estimates from multiple moving companies in Virginia
Request price estimates from several local moving companies before deciding. Don't automatically select the cheapest option; carefully review each estimate to ensure you get what you need for an affordable price. Also check what type of services does it offer? Is it loading services, moving services, storage services, or full service?
4. Look for additional services
When comparing estimates, consider whether a company offers any specialty services such as packing and unpacking services. Some local movers also offer storage solutions if needed. Getting a good package for a full service is recommended.
5. Make sure you understand the contract
Take time to read through the entire contract before signing it. Ensure all information is accurate, including contact details, dates of service, pricing, and other specific instructions.
6. Ask questions
If there is anything in the contract you do not understand or need clarification, ask questions before signing off on it. Don't be afraid to get more than one opinion if necessary.
7. Confirm crew qualifications
Ask about the qualifications of the movers who will be handling your belongings. Make sure that they are trained professionals with experience in local moving services.
8. Ensure proper insurance coverage
Find out what insurance coverage the contract includes and ensure it meets all applicable state requirements. You should also consider purchasing additional insurance to cover any high-value items being transported. Most international moving services provide insurance but a national moving company might not offer it by default. It many come under their optional services.
9. Inspect trucks
Inspect the company's truck before signing a contract to ensure it is properly maintained. Check if it is equipped with necessary safety features such as straps and blankets for protection during transport.
10. Request packing materials
Investigate whether or not the mover provides packing materials or if you must supply them yourself. If the professional moving company does provide them, make sure to ask about the quality of the materials used.
11. Avoid cash payments
Paying with a credit card or check is always preferred over cash payments as it offers more protection if anything goes wrong during your move.
12. Ask for a timeline
Inquire about when you can expect delivery of your belongings and whether or not any delays may occur along the way.
13. Get a written inventory list
Before allowing your items to be packed into boxes by the moving company in Virginia, make sure to have an inventory list created and signed off on by both parties. Also, keep a copy for yourself in case something goes missing during long distance transport.
14. Inspect goods upon arrival
When your items arrive, inspect them for damages before signing off on the delivery. If any discrepancies are found, note them on the inventory list and take photos if necessary.
15. Get a refund policy in writing
Ask about the company's refund policy and ensure it is documented clearly in the contract. This will ensure you get reimbursed if any moving services were not up to par or items went missing during transport.
Working with a local mover can be intimidating, especially when entrusting them with all your most prized possessions. However, by following these 15 tips to know while choosing the best local mover in Virginia, you can rest assured that your move will go as smoothly as possible. With the right local mover, you can ensure your belongings arrive safely and on time at your new residence. Good luck!
Benefits of Using a Local Mover in Virginia
1. Quality Service
You can be sure you will receive high-quality, personalized service from a local mover in Virginia. They are experts in the industry and have extensive experience with delicate possessions, ensuring that your belongings arrive safely at their new home.
2. Affordable Prices for Moving Services
Local movers offer competitive rates to accommodate any budget while still providing high customer service. You won't have to compromise quality for affordability when choosing a local mover in Virginia.
3. Professionalism
Professionalism is essential when it comes to moving. You can rest assured that the staff from local movers in Virginia has been trained in proper etiquette and customer service standards to ensure your move goes smoothly.
4. Flexibility and Availability
Local moving companies in Virginia understand the unique needs of individual clients and offer flexible scheduling to meet those demands. They are also available on short notice, making it easy to start your move quickly without any added stress.
5. Safety
The safety of your belongings is paramount when it comes to moving, and local movers in Virginia take extra care to ensure that everything is appropriately secured during transport. Their expertise ensures that your goods arrive safely at their final destination.
6. Reliability
You can rely on local movers in Virginia for quality service every time you move. With a reputation for professionalism and reliability, you can trust that professionals will take care of your possessions.
7. Expertise
Local movers in Virginia have extensive experience and knowledge in all aspects of moving, including packing and unpacking your items, loading them onto a truck, driving long distances and delivering goods to their final destination.
8. Stress-Free Moving
With an experienced local mover in Virginia handling your move, you can be sure that everything will go as smoothly as possible for you and your family. They will take the stress out of the entire process so you can relax, knowing that all your possessions are in good hands.
How to get estimates from local movers in Virginia?
To get estimates from local movers in Virginia, you can start by researching online or asking for recommendations from family and friends. You should gather several quotes before making a decision. 
When reaching out to different companies, it's important to ask about their experience, availability, cost of services and any additional fees that may be associated with the move. Additionally, make sure you check reviews on third-party sites like Yelp or Google so you have an idea of past customer experiences. 
Once you have gathered enough information, compare all the quotes and select the one that best fits your needs and budget. Be sure to read through contracts thoroughly before signing anything. Have an attorney review any paperwork for extra protection. 
Lastly, always make sure to ask movers questions if you need clarification on any of their services or procedures. With the right moving company, your relocation can be stress-free and smooth.
Best Ways to Compare Local Movers in Virginia
One of the best ways to compare local movers in Virginia is by looking at customer reviews. 
Reading reviews from past customers can offer insight into the quality of services provided and whether or not customers have had good experiences with a particular moving company. 
Additionally, researching different local movers to determine what services they offer, their pricing structure and any additional fees associated with them will help you decide which company is the best fit for your move. 
Finally, be sure to ask questions about insurance coverage for your belongings when comparing different local movers in Virginia, as this will provide you with peace of mind throughout the entire moving process.
By taking the time to research and compare local movers in Virginia, you will be able to find the right company for your move.
How do I know if a Local Mover in Virginia is Reputable?
The best way to determine if a local mover in Virginia is reputable is to check the reviews and ratings they have received. 
Look for customer feedback from reputable sites such as the Better Business Bureau (BBB), Trustpilot, HomeAdvisor, Yelp, Google, and other online review platforms. Make sure you read both positive and negative reviews as this will give you a better understanding of their services. 
Research their license information with the Virginia Department of Motor Vehicles (DMV). Moving companies are required to register with the DMV in order to provide services within the state. This ensures that all movers abide by laws and regulations the Commonwealth of Virginia set forth.
Lastly, ask questions when researching different moving companies – get estimates from each and ensure the company is insured, bonded and licensed. These steps will help you hire a reputable local mover in Virginia.
Things to Keep in Mind when Reading Reviews of Local Movers in Virginia
1. Check that the reviews are recent and relevant. Read a few reviews to ensure they reflect current customer experiences with the company you're considering.
2. Consider multiple sources of information when evaluating local movers in Virginia. If a review appears on more than one website or by different reviewers, it can be helpful when making your decision.
3. Look for ratings from reputable organizations like the Better Business Bureau and Angie's List to accurately understand a particular mover's customer satisfaction level.
4. Be aware of potential biases when reading online reviews; if all of them seem too good (or bad) to be true, take extra time to verify the information.
5. Remember to read reviews on the company's own website, as they can often provide an accurate and balanced insight into what customers think of their services. 
Doing so will enable you to make a better decision when selecting your Virginia mover.
How can I make sure my Belongings are Safe During my Move in Virginia?
The best way to ensure your belongings are safe during a move in Virginia is to hire professional movers. Professional movers are experienced and certified, meaning they know how to pack and transport items safely.
They also have insurance covering any unforeseen damages or losses during the move. If you choose to hire professional movers, be sure to thoroughly research their reputation before signing any contracts with them. Additionally, you should ask for an inventory list of all your items so that you can keep track of everything throughout the process. 
Finally, take pictures of all of your boxes and furniture before it leaves your house in case something goes missing or gets damaged during transit. 
Taking these precautions will help ensure that your belongings stay safe during your move in Virginia.
Choosing the right local mover in Virginia can be overwhelming and expensive if you're unaware of all the available options. We hope this blog post has provided some helpful information on how to properly prepare for your move while choosing a reliable mover at the same time. Ensure that the mover you end up with is insured, licensed, and reputable.
Consider researching customer reviews, always ask for quotes and compare them across different movers, ensure that any special requests or services are listed in writing before signing any documents, and read all fine print thoroughly. Doing so will ensure that you are making a safe and cost-effective decision when hiring a local mover in Virginia.